Every student participating in athletics must have a sports physical on file before they can participate in practice. Fast pitch and cross country start July 15. Football August 8th. Great Salt Plains in Medford is offering sports physicals on July 7th 8:00am-12:00pm. MUST CALL and make an appointment. The cost is $25.00

Parents if you have enrolled your kid in drivers ed classes will be May 24th 12-6, May 26th 2-7, and May 27th 8-5. All other dates will be decided after class starts.
Just a heads up that starting in August for the next school year meals will not be provided free as they have the past couple of years. The federal funds for that program have not been budgeted for the schools to receive. So unless you fill out an application for free and reduced lunches and qualify you will be paying for the meals that your child eats. Also, there will NOT be any summer meals provided during the summer.
Hunter bus riders: The bus will pickup the town students at the Hunter stop at 7:35 tomorrow morning. If you have any questions, please contact your bus driver.
The Award Assemblies will be tomorrow. Elementary grades K-4 at 9:00, Middle School at 10:30, and High School grades 9-11 at 1:30. Students should dress nicely while still adhering to the dress code. Please join us in the auditorium to celebrate the students' accomplishments!
Blue library slips are being sent home today and tomorrow. Please be sure that your student has returned all library materials and paid any outstanding fines by the end of the year. Accounts must be up-to-date for report cards and transcripts to be released. Please contact Mrs. McReynolds with any questions.

Just a reminder all 8-11th grade girls interested in the Miss Pond Creek Hunter Pageant must submit a completed Application/Profile Sheet, due by May 15, 2022.  All interested Contestants are required to attend the Informational Tea, accompanied by a parent/guardian on Sunday, May 15 at 1:30pm @ the Family Life Center, Pond Creek.   Sunday dress is recommended (pictures will be taken). Contact Adrianne Miller with any questions 832-401-9859l ok

7th-12th Vocal classes will be going to the Community Health Center in Wakita Tuesday, May 17th. They will leave around 12:45pm and be back around 2:30pm.
This year's 4th-7th graders Basketball Camp will be tomorrow from 3:00-5:00. Students who did not sign up are still welcome to attend. The cost is $50. All participants will meet at the new gym right after school. There will be a concession stand with drinks if you would like to send money with your child. Have appropriate shoes. Parents, please pick up your children at 5:00 p.m. from the new gym.
The MS/HS students not assigned to help with Tuesday's Elementary Fun Day will be bused to the softball field after eating their regularly scheduled breakfast. Sack lunches will be provided for all students who did not plan to bring their own lunches. Athletic shorts and sweats are allowed, but otherwise, the school dress code still applies. Please have your student bring sunscreen, extra water, hats, sunglasses, and game equipment such as kickballs, footballs, volleyballs, and cornhole sets. Also if fishing bring fishing poles & bait. Students will return to school before 3:00.
The PreK-4th Fun Day Track Meet will start at 9:00 tomorrow morning. Please encourage your child to bring sunscreen and several waters. Also, dress for hot weather. A lunch will be provided by the school, but students may prefer to bring a lunch or money for concession. We will eat in the cafeteria. A schedule of events may be found on our school Facebook page or Live Feed page. Come out and cheer with us!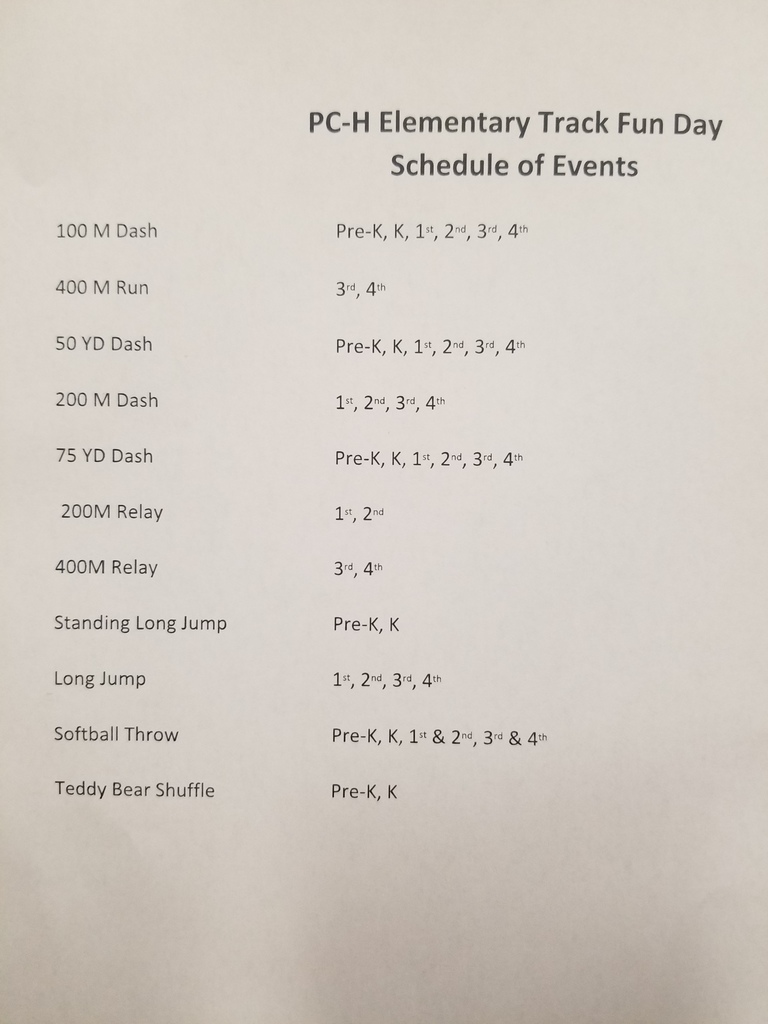 The MS/HS Vocal Concert has been rescheduled for Tuesday, May 10th at 6pm. Please join us in the Auditorium!
Due to extremely wet conditions and the possibility of more rain, the Elem Track Fun Day and MS/HS Fun Day have been rescheduled for Tuesday, May 10. We will have regular classes tomorrow.

Due to no electricity the band concert schedule for 6 PM tonight has been canceled

Due to no electricity the Pond Creek Hunter band concert schedule for tonight at 6 PM has been canceled

https://5il.co/19t5u
Spring Sports pictures, including Band, will be tomorrow starting at 10:30am. Bring uniforms. Order forms have gone out but if you haven't received one you can find the order form at the link. Orders are due tomorrow.
PreK-3rd Basketball Camp is today from 3:00-5:00 for those who signed up. All participants will be picked up from classes and walked to the new gym. There will be a concession stand with drinks and candy if you would like to send money with your child. Have appropriate shoes. Parents, please pick up your children at 5:00 p.m. from the new gym.

MS and HS Band Concert is tonight Thursday, April 28 at 6pm in the PC-H auditorium. Please join us!