Basketball today @ Ringwood. The middle school bus will not return till after the high school girls game. We encourage all middle school players to ride home with their parents if possible. Games are as followed: 5-6 @ 2:00 pm 7-8 @ 4:00 pm HS @ 6:30 pm
PC-H FCCLA hosted a gingerbread house contest for MS & HS FCCLA members & family consumer science students
https://youtu.be/4XB_9rZy9cY
Merry Christmas!

https://sde.ok.gov/sites/default/files/Parent%20Guardian%20Open%20Transfer%20Application.pdf
A new law went into effect that changes the way transfers are approved. Starting January the Board will have to set the capacity of each grade level and list it on the school website. The capacity is reevaluated throughout the year. Currently the School Board has approved the capacity to be the class size listed in HB 1017. Current transfer students have priority but must complete a transfer application each year. All other possible student transfers, including siblings of current transfer students, must apply for a transfer after January 1st and are on a first come first served basis up to the limit set by the School Board. A transfer can only be denied for issues based on discipline and/or attendance. We take pride in the fact that a large portion of our students choose to be here on transfers and plan to do our best to continue that tradition. You can use the above link to obtain the new transfer application. You will need to return the application to administration office after January 1st of each year. More information can be found on the school website under the MENU tab then click on "Transfers".
Our 5th Grade STEM class has been learning about video editing and has created a 12 days of Christmas video to share with you. Please click on the link to view the video. Merry Christmas!
https://youtu.be/HQv7eZ9_vd8

Pond Creek-Hunter Public Schools has become aware of a troubling post that is being shared this week on the social media platform TikTok. The post refers to a threat to school safety "for every school in the USA, even elementary," on Friday, December 17. The post appears to be part of a national TikTok trend. While we do not believe the threat to be credible, we are closely monitoring the situation and taking it seriously. Pond Creek-Hunter Public Schools has been in contact with the Pond Creek Police Department and the Grant County Sheriff's Department regarding the trending post.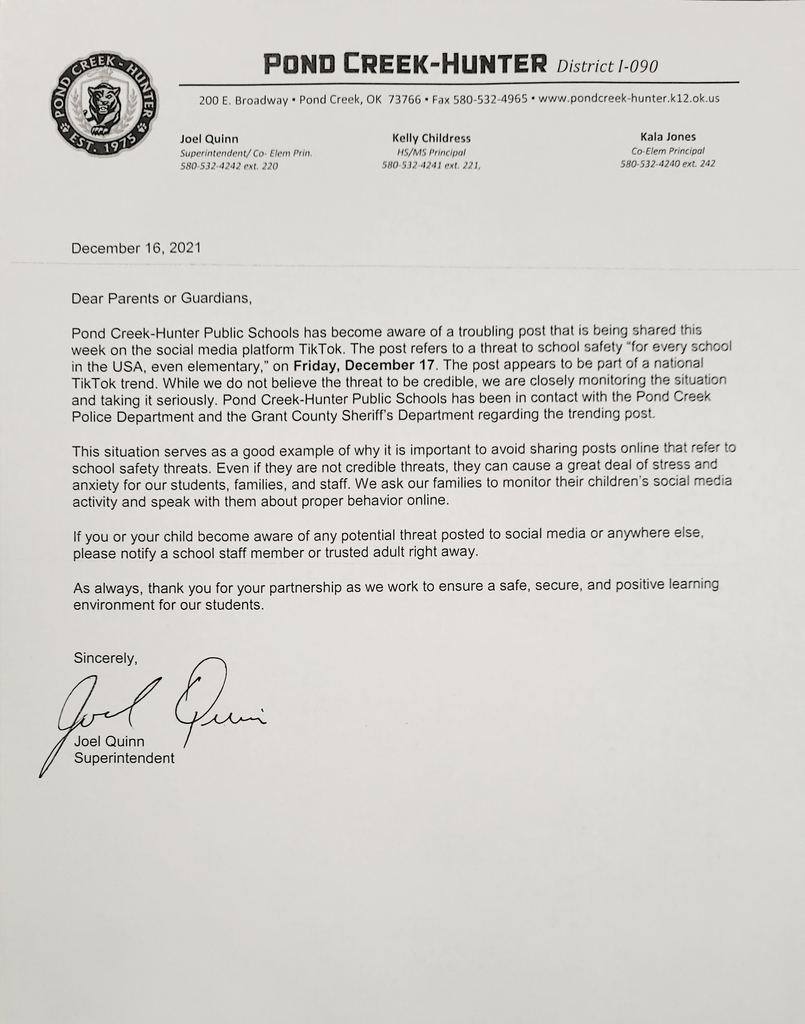 Middle School Band/Vocal will also need to meet in the band room at 6:45.

Our Christmas program is tonight! Please have all elementary there by 5:45. Also all High School band/vocal needs to meet in the band room by 6:45. Come out and enjoy this great program. Have a Merry Christmas!
We are *thrilled* by the results to our Santa for Seniors drive! PC-H elementary and middle school students and families provided almost 450 gifts and personal care items for Enid area senior citizens! High school students donated over 200 items for Wakita nursing home residents! What a privilege to be a part of the Panther community. Elementary school winners are the kindergarten students with 108 donated items. High school juniors were the winners with 89 items. Middle School winners will be tallied at the end of the food drive. Thank you again for your support!
Library slips are coming home with overdue books and library fines. Please check with your child for a blue paper being sent home. All fines must be paid before report cards to be released in January. Please contact Mrs. McReynolds with any questions. Thank you for supporting our PC-H Library.

5th and 6th Grade Boys Basketball team will now have an inter-team scrimmage at 3:00pm today in place of their cancelled game.

5th and 6th Grade boys Basketball game against Cimarron has be cancelled for today, due to illness. 5th and 6th Grade girls will play as scheduled today at 2pm.

Please join us tonight at 7pm, for the short play. 10 Ways to Survive the Zombie Apocalypse, a comedy performed by the HS Performing Arts Class.
Tomorrow is the last day to make a donation to our PC-H Santa for Seniors! Food and new clothing items, blankets, gifts and personal items for the elderly are being collected to bring holiday cheer. Help support your grade level and bless those in need. Thank you for your generosity.